Les chambres d'hôtes du Castillon

Le Castillon vous ouvre les portes de ses chambres d'hôtes ; venez découvrir, le temps d'une halte, ou d'un séjour un accueil chaleureux et familial.
Laissez votre véhicule dans le parking aménagé dans la cour et venez voir votre chambre. Préparée avec raffinement, celle-ci vous fera rêver à l'Italie !
Quant au petit-déjeuner, copieux et savoureux, il vous régalera : jus de fruits, fruits frais, céréales, pain, brioches et croissants « maison », yaourt, fromage et confitures, avec café, thé, lait à volonté…
Et, s'il fait beau, pourquoi ne pas prendre votre petit-déjeuner dans la pergola ?
Christiane et Pasquale se font déjà une joie de vous accueillir !


Il Castillon vi apre le porte delle sue camere. Venite a scoprirlo il tempo di una pausa o di un soggiorno, vi accogliamo con calore e cordialità.
Mettiamo un parcheggio a vostra disposizione nel cortile e la camera che vi aspetta, preparata con raffinatezza, vi farà pensare all'ITALIA.
Vi prepariamo ogni mattina una colazione abbondante e gustosa : succo di frutta, frutta fresca, cereali, pane, panini e cornetti " fatti in casa", yogurt, formaggio e marmellata, caffè, tè, latte a volontà.
E se fa bel tempo, perché non prendere la colazione sotto la pergola?
Christiane e Pasquale non vedono l'ora di accogliervi!


Le Castillon opens the doors of a Bed&Breakfast ; Come and discover Le Castillon for a warm and generous welcoming.
Leave your vehicle in our private back yard car park et have a look at your bedroom. Decorated with taste, this will make you dream about Italy !
And about the breakfast, we made it big. All you can eat composed by fruit juices, fresh fruits, cereals, bread, homemade croissants, yoghourts, cheese and delicatessen. Served along with coffee, tea, milk
And if the weather allows it, why not have your breakfast on our Pergola ?
Christiane and Pasquale are already happy to welcome you !


Bed & Breakfast Le Castillon
Ontdek onze familiale en sfeervolle B&B Le Castillon, ideaal voor een korte stop of een langer verblijf. Je bent er van harte welkom!
Parkeer je wagen op de binnenkoer en snuif de Italiaanse sfeer op van je kamer, die met stijl en oog voor detail gedecoreerd is. Voor je het weet, waan je je in Italië.
We verwennen je met een heerlijk, uitgebreid ontbijt bestaande uit fruitsappen, vers fruit, granen, ovenverse broodjes, chocoladebroodjes en croissants, huisgemaakte jam, yoghurt, kaas, koffie, thee en melk naar hartenlust! En waarom zou je bij mooi weer, het ontbijt niet nuttigen in de pergola?
Christiane en Pasquale kijken er al naar uit om jou te ontvangen!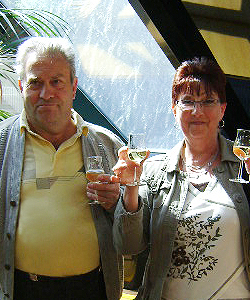 Infos
+32(0)64 55 60 69 - MOBILE : +32(0)495 48 15 91 +32(0)486 89 78 24